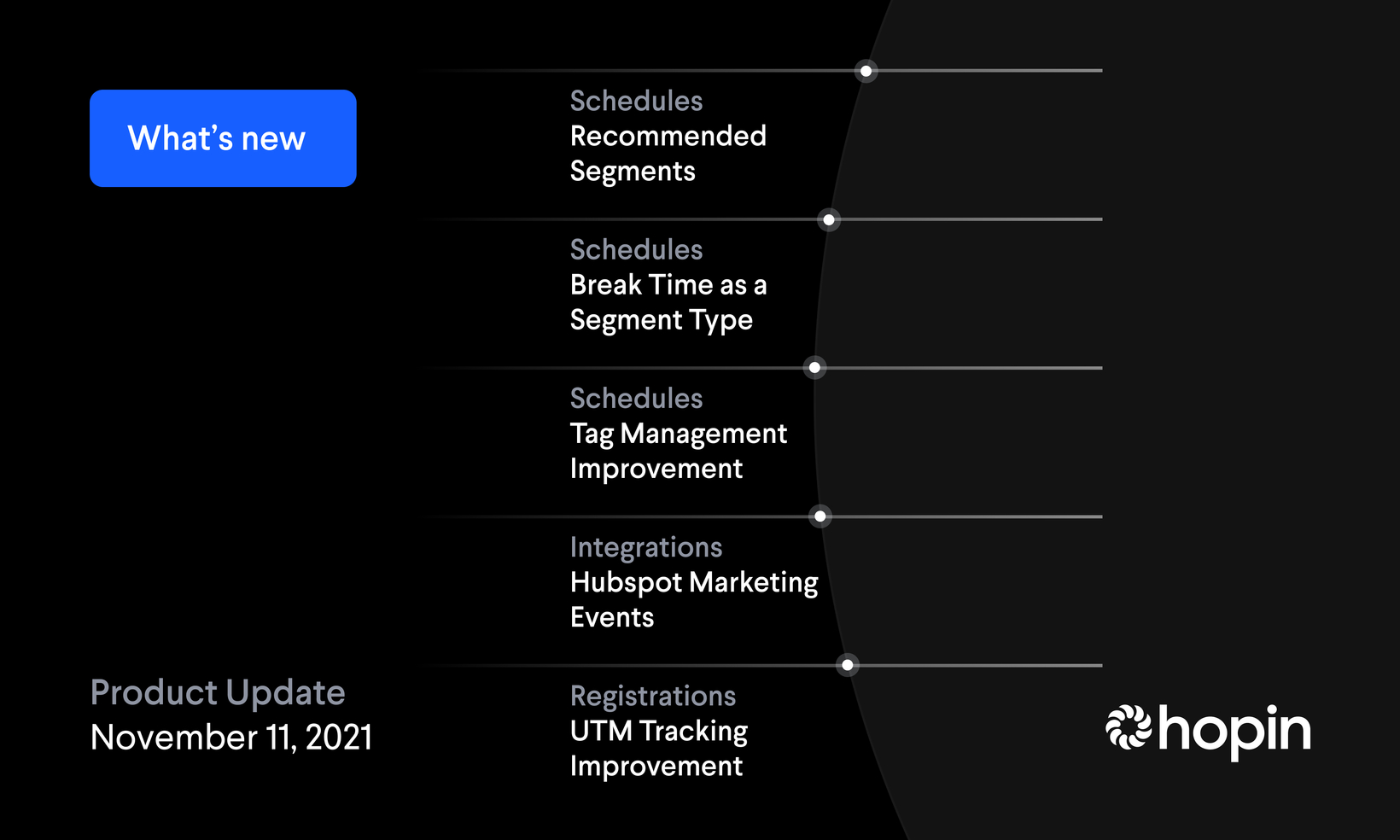 DATE:

AUTHOR:

The Hopin Events team
Organizer
Attendee
New
Improvement
Web
Integrations
All Plans
Business Plan
Enterprise Plan
Take your event to the next level with our improved schedule and deeper marketing capabilities
DATE:
AUTHOR: The Hopin Events team
Happy Wednesday! We have some exciting new product enhancements and integrations to share with you, so let's jump right in.
Recommend specific event segments to attendees
Organizers can now highlight and guide attendees to specific schedule segments by labeling them as "recommended." During the event, attendees will receive a notification about each recommended segment, giving them the option to navigate to those segments or areas.
With this new functionality, you can:
Encourage attendees to join specific sessions or explore certain areas of your virtual venue

Promote your ideal event flow and make sure attendees know about important moments

Prevent attendees from feeling lost or overwhelmed
Available on: Business and Enterprise plans
Display break time in your event schedule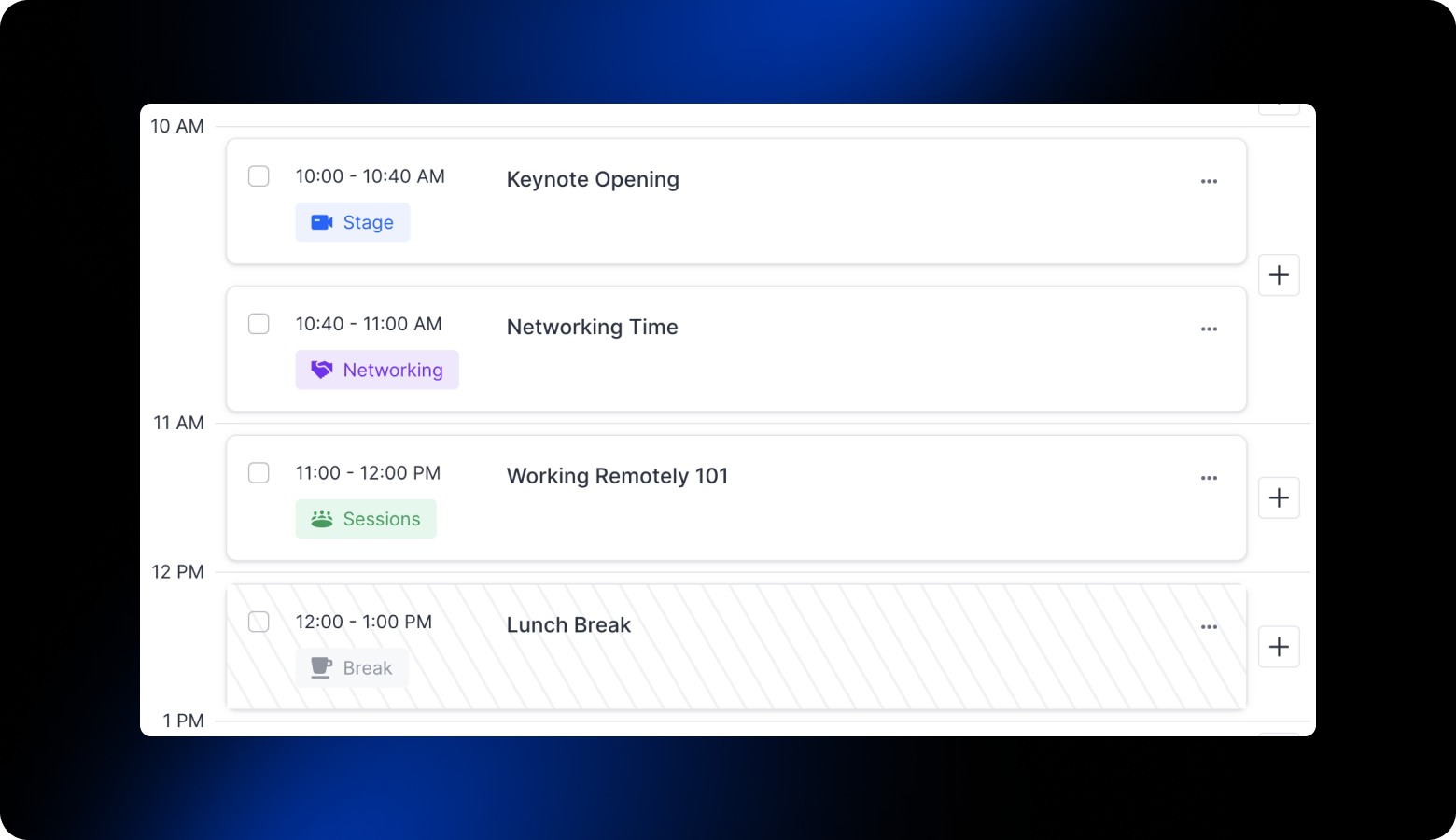 Event organizers can now highlight breaks in event schedules so each attendee can build a personalized agenda and plan their day accordingly.
We added "break" as a new option under "session type", so you can intentionally display breaks during your events.
Available on: All Plans
Simplified tag management in event schedules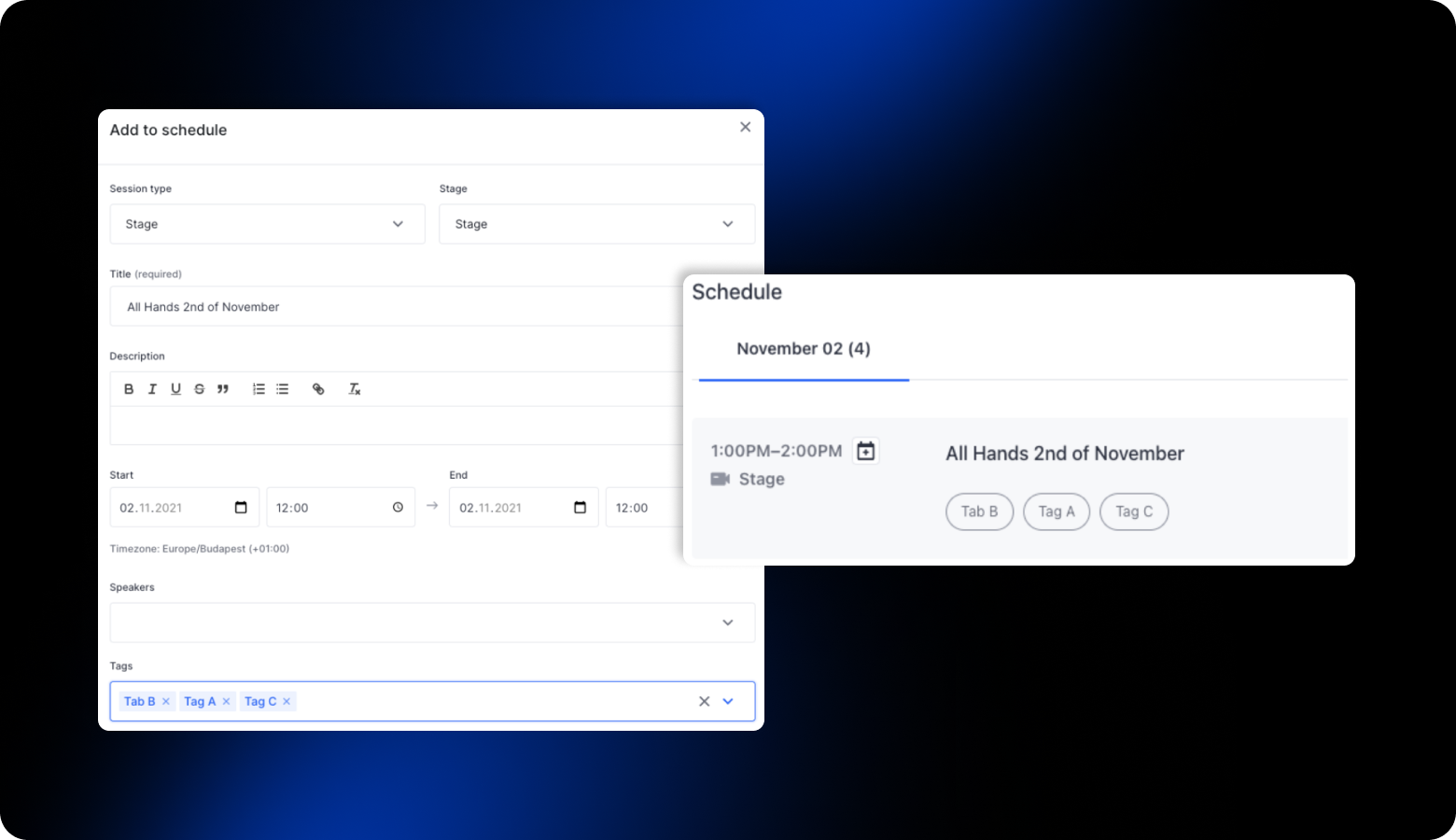 Tags help attendees quickly identify relevant event segments. We've improved this existing functionality by making the tag order automatically consistent across the platform. Tags now maintain a persistent order based on how an organizer added them when creating event segments.
Tags are now displayed in the order they were added, allowing organizers to show the most relevant tags first.
Available on: All Plans
Improved HubSpot integration for better relationship management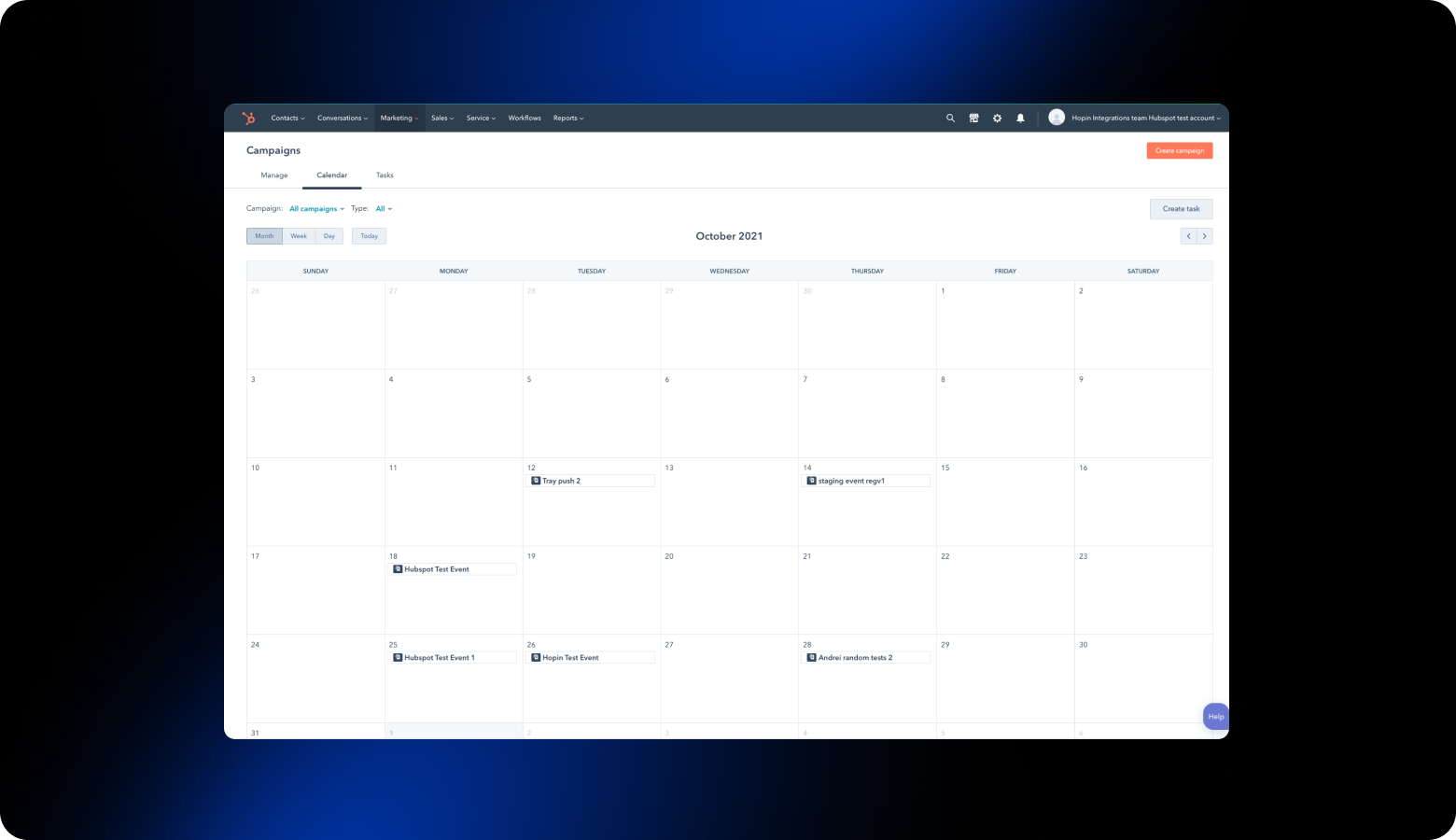 Hopin's HubSpot integration helps event organizers easily manage participant relationships under Hubspot Marketing Events.
With this new functionality, you can:
Save relationships between participants and events

Create lists and custom reports in HubSpot

See the attendance status for your events
Available on: Business and Enterprise plans
Better tracking with improved UTM functionality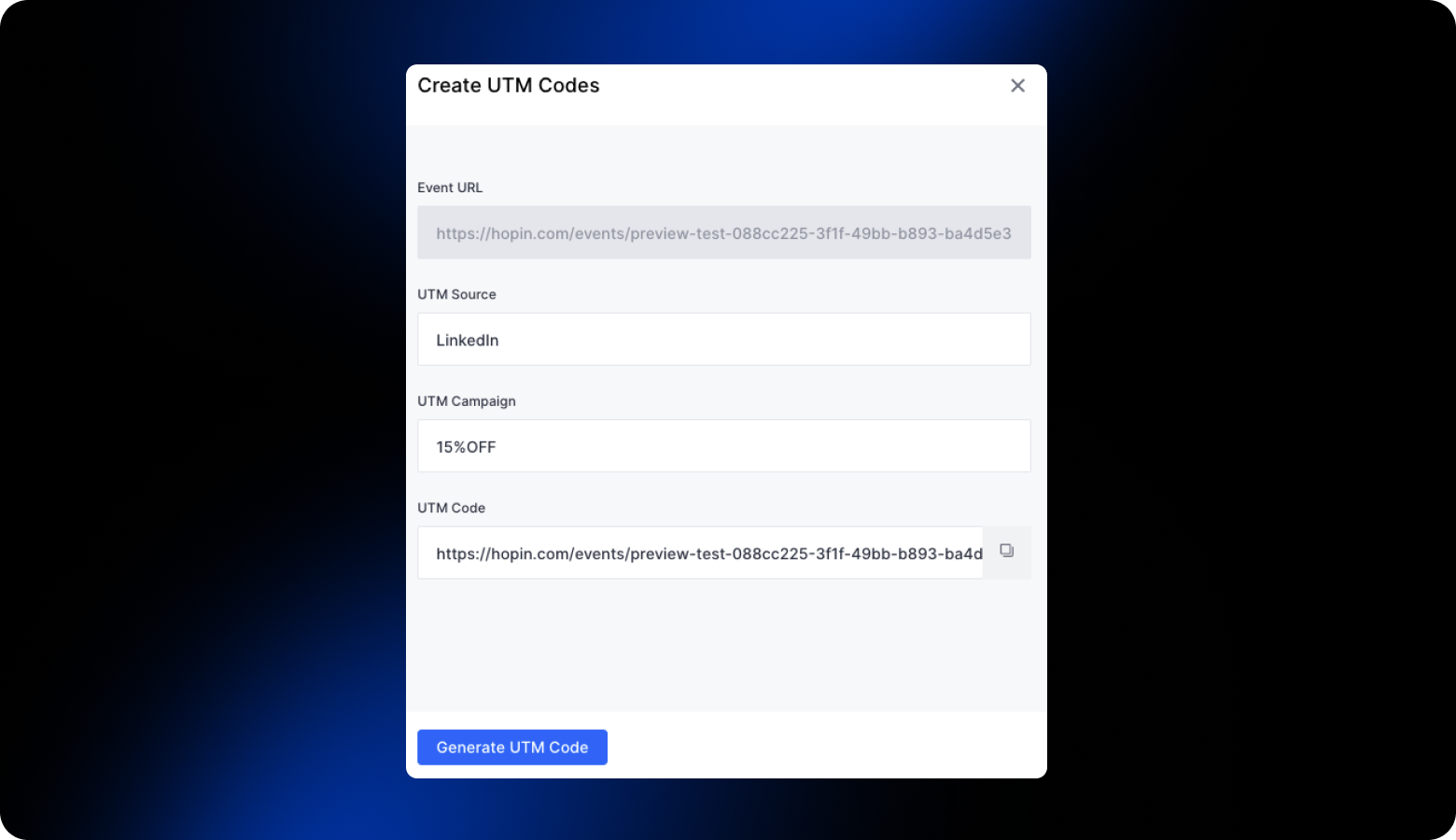 We're enhancing our UTM functionality so you can understand how your marketing channels are performing. UTM tracking is now available for private events as well as events with simple registration flow.
With this functionality, you can:
Create custom UTM codes with up to five parameters to better segment your marketing activities

View and manage each UTM code with ease, from one place

Understand registration performance with a breakdown by UTM parameter
Available on: All Plans
Thanks for reading and have a great week!
-Team Hopin