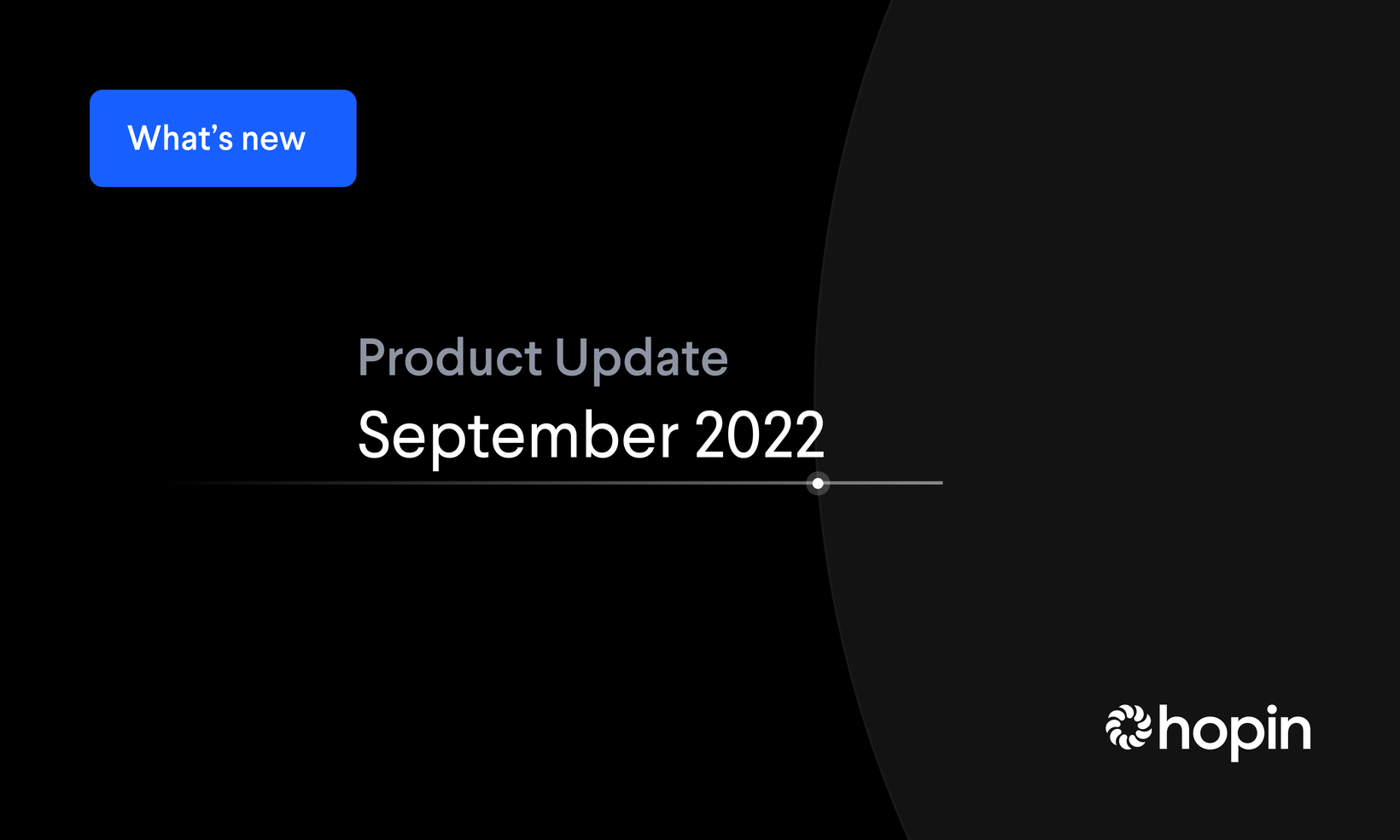 DATE:

AUTHOR:

The Hopin Events team
Organizer
Attendee
Sponsor
New
Improvement
Web
iOS
Android
DATE:
AUTHOR: The Hopin Events team
We hope everyone has had a great September. We have some exciting product updates to share this month - read on to learn more.
Before we share our exciting new product updates below, we have a major announcement for you: starting today, customers on the Growth, Business, and Enterprise Plans will be able to create and manage In-Person events from their Hopin platform! 
We're combining our virtual and hybrid features you've been using on Hopin with the best of Boomset so you can run memorable events flawlessly - no matter the event format!
Updates for event organizers
Onsite Event Creation
We are expanding the reach of the Hopin events platform so that it now supports all event formats (virtual, hybrid, and onsite). When creating new events, customers on the Growth, Business, and Advanced Plans will be prompted with a screen to select the desired event format and from there will be able to manage their In-person events with ease.
Bulk Upload Updates
Registrants: We are giving event organizers the ability to bulk upload their list of registrants via a .csv file, which will save a considerable amount of time while not relying on the event audience to register for the event on an individual basis. Learn more here.

Exhibitor: Similar to the above, organizers can now bulk upload a .csv file with all their exhibitors at once. Learn more here.
Signature Collection
This feature allows organizers to create signature documents and collect signatures automatically within the check-in flow. These signatures can be assigned to specific ticket types and will streamline the process when there are: CME accredited events, speaker agreements, and GDPR disclosures, among others. Learn more here.
Editable Custom Answers
Event organizers now have the ability to edit registrants' answers from custom questions collected during the registration process via the Event Dashboard and the Organizer App at any time. Learn more here.
Analytics Updates
Within this release, we are taking the ability to extract meaningful insights from Onsite events to the next level through:
The addition of new and revamped reports

A rework of the Onsite Overview Analytics Page, displaying key information from a single dashboard.
Updates for attendees
Connections directory at the event level
Connections made in a specific event will show under the People Area (left-hand sidebar) and will be accessible post-event for as long as the post-event replay is accessible.
Push Notifications (My Agenda and Meetings)
We are introducing Push Notifications for the Attendee Mobile App. Within this release, Push Notifications will be triggered by:
Event segments added to My Agenda

Meetings
Learn more about this month's updates and influence future releases
To learn more about this month's releases, check out our Knowledge Base.
Want to influence features and help shape the future of Hopin? Join our Customer Research Panel and get the opportunity to share your thoughts with our product team. 
Interested? Complete this two-minute survey.