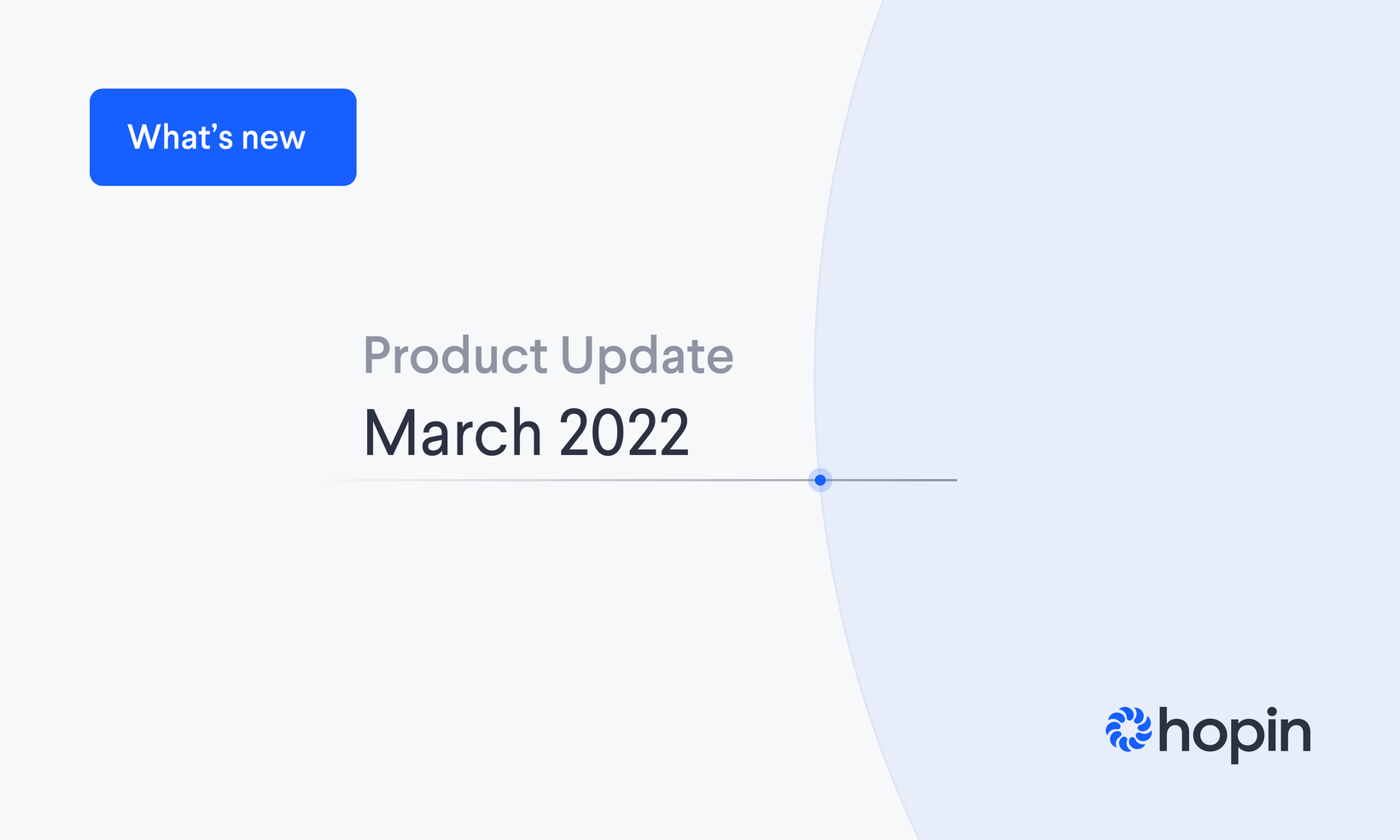 DATE:

AUTHOR:

The Hopin Events team
Organizer
Attendee
Speaker
New
Improvement
Web
iOS
Android
Integrations
DATE:
AUTHOR: The Hopin Events team
Happy March! We have several new product updates to share with you so let's jump right in.
Updates for event organizers
Hybrid event creation
Create a hybrid event directly from the Organizer Dashboard. Choose between a virtual or hybrid event format and include the address of your physical event, with location information powered by Google Maps. Learn more here.
Hybrid registration and ticketing
Create hybrid tickets for your event. Attendees registered with your hybrid ticket will receive a QR code to check in to the physical event, accessible via their email or within their Attendee app. Learn more here.
Hybrid scheduling
When creating an event segment in the schedule, you can select whether a session is virtual-only or hybrid. You can also include room details as well as the capacity of the room. Learn more here.
Multiple check-in areas
Establish multiple check-in areas at your physical venue. Create unique QR codes for specific check-in areas and edit or disable options for each area to facilitate custom check-in experiences. Learn more here.
Organizer app: event check-in
Check attendees in or out of your physical venue by scanning their QR code or searching for their names. Register new walk-in attendees and view your guests' information. Learn more here.
App Area
This new functionality allows organizers on paid plans to embed select partner apps into their event in a full-screen format. The App Area also allows attendees to activate their webcams and microphones to better engage with your event and fellow attendees. Learn more here.
Kumospace app
Host fun and engaging networking sessions in interactive and customizable spaces. Learn more here. (Available in the App Area)
Testimonial app
Source and display testimonials from your attendees in real-time. You can also display those testimonials as a "wall of love" for attendees to view and share. Learn more here. (Available in the App Area)
Webooth app
Add custom, branded interactive photo booths and games to your virtual or hybrid events. Learn more here. (Available in the App Area)
Capsule app
Collect and share branded videos from your guests. You set the prompt, attendees press record and Capsule auto-edits the video based on pre-selected video templates. Learn more here. (Available in the App Area)
Buzz Radar app
Aggregate social buzz around your event into interactive, visual displays. You specify the social handle and hashtags, Buzz Radar will collect any mentions and visualize it for your attendees to enjoy. Learn more here. (Available in the App Area)
Picture Mosaic app
Add an interactive photo mosaic within your event to boost engagement. Attendees can submit photos and GIFs to add to the wall, comment on submissions, and participate in games like "Where's Waldo?" Learn more here. (Available in the App Area)
Mootup app
Unlock the metaverse and create immersive, virtual reality experiences for networking, breakout rooms, expo floors, and after parties. Learn more here. (Available in the App Area)
Funtivity app
Create curated activities like trivia, bingo, escape rooms, pictionary, and more to increase engagement and connectivity. Install the app here.
AI Media app
Make the event content more accessible with live English and multi-language captions. Learn more here.
Replay descriptions
You can now provide rich text descriptions for your recordings in Replay to give viewers more context.
Poll editing
Edit the content and attendee visibility of unanswered polls, and extend poll access to admins and booth vendors. Learn more here.
Moderator breakout room access
Organizers and nominated moderators can now get a bird's eye view of breakout room participants and join breakout sessions as they wish. Learn more here.
Updates for attendees
People Area
This new event area is your attendees' go-to destination for one-on-one interactions. The Networking area now sits within the People Area, giving attendees a single place to search for and meet people. Learn more here.
Revamped mobile user interface
Enjoy improved navigation and a new user interface on the Hopin Mobile App. Learn more here.
---
Influence the future of Hopin
Want to influence features and help shape the future of Hopin? Join our Customer Research Panel and get the opportunity to share your thoughts and opinions directly with our product team.
Interested? Complete this two-minute survey.