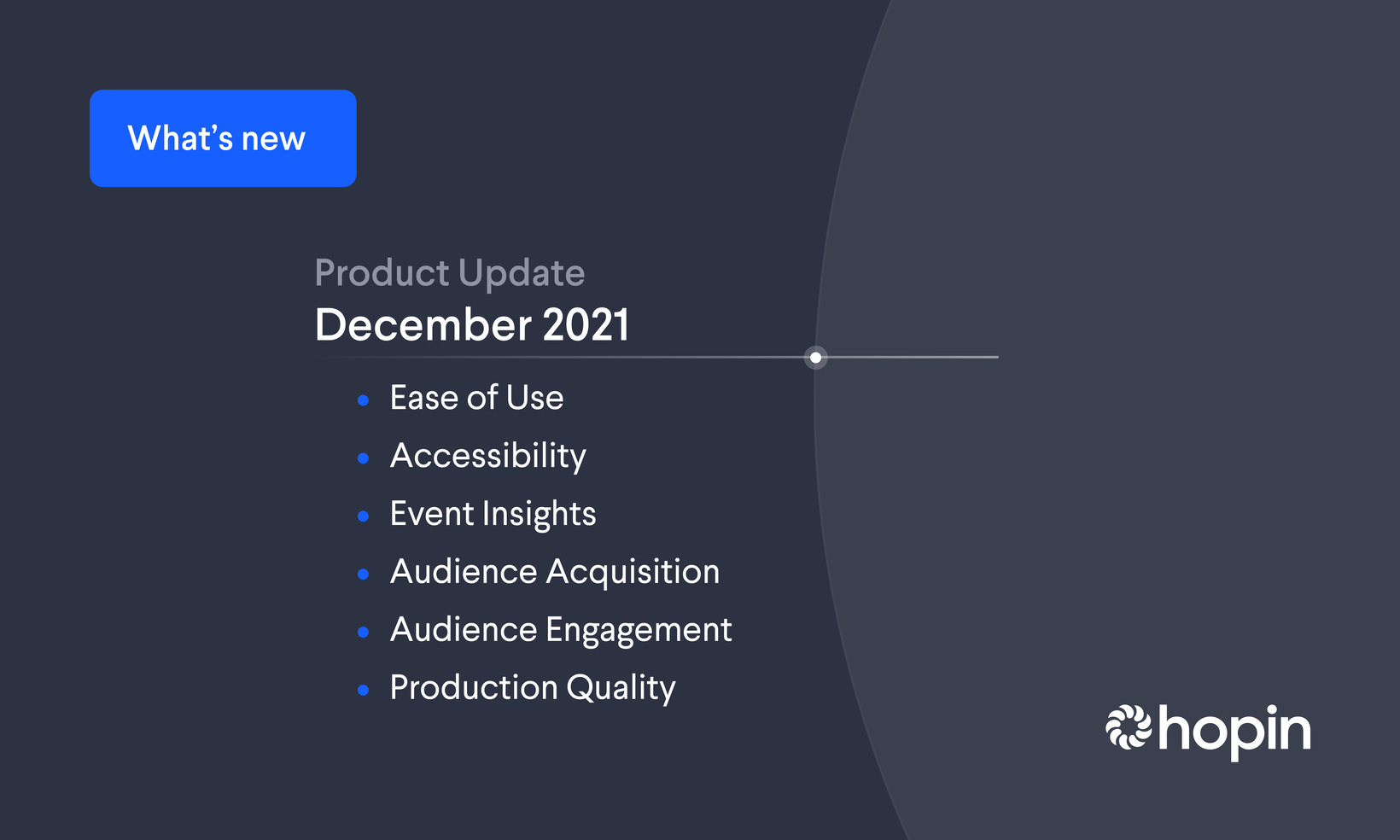 DATE:

AUTHOR:

The Hopin Events team
Organizer
Attendee
Speaker
New
Improvement
Web
iOS
Android
Integrations
All Plans
DATE:
AUTHOR: The Hopin Events team
What's new:
We're excited to announce we have now moved to a monthly product release schedule! With this new cadence, we aim to make it easier for you to keep up with all of the updates Hopin is implementing to ensure that you and your attendees have a best-in-class experience.
You'll also notice we're now grouping our product updates by their associated benefit:
Ease of use
We've developed the following features to speed up your event creation and publishing process:
Create segments that remain on your schedule for the entire event
You can now designate schedule segments as "always open" so attendees will see them on the Sessions page for the duration of your event. We streamline the schedule-building process by making the Schedule the default when linking segments. Available on all plans.
Have a holly, jolly Hopin event creation experience
'Tis the season of giving, so we dedicated a whole week to tidying up our user interface and squashing some pesky bugs. We've made small but impactful tweaks to make building an event even smoother.
Sharing and tracking capabilities have a new home
You can now find your sharing snippet and Google Analytics tracking code under the 'Marketing' tab on the event dashboard — now called 'Sharing and Tracking.' We've moved this feature from its previous home in the 'Advanced' tab to streamline the event creation process.
Accessibility
To empower you to create global and inclusive events, we're proud to announce the following features:
Improved accessibility in the Sessions area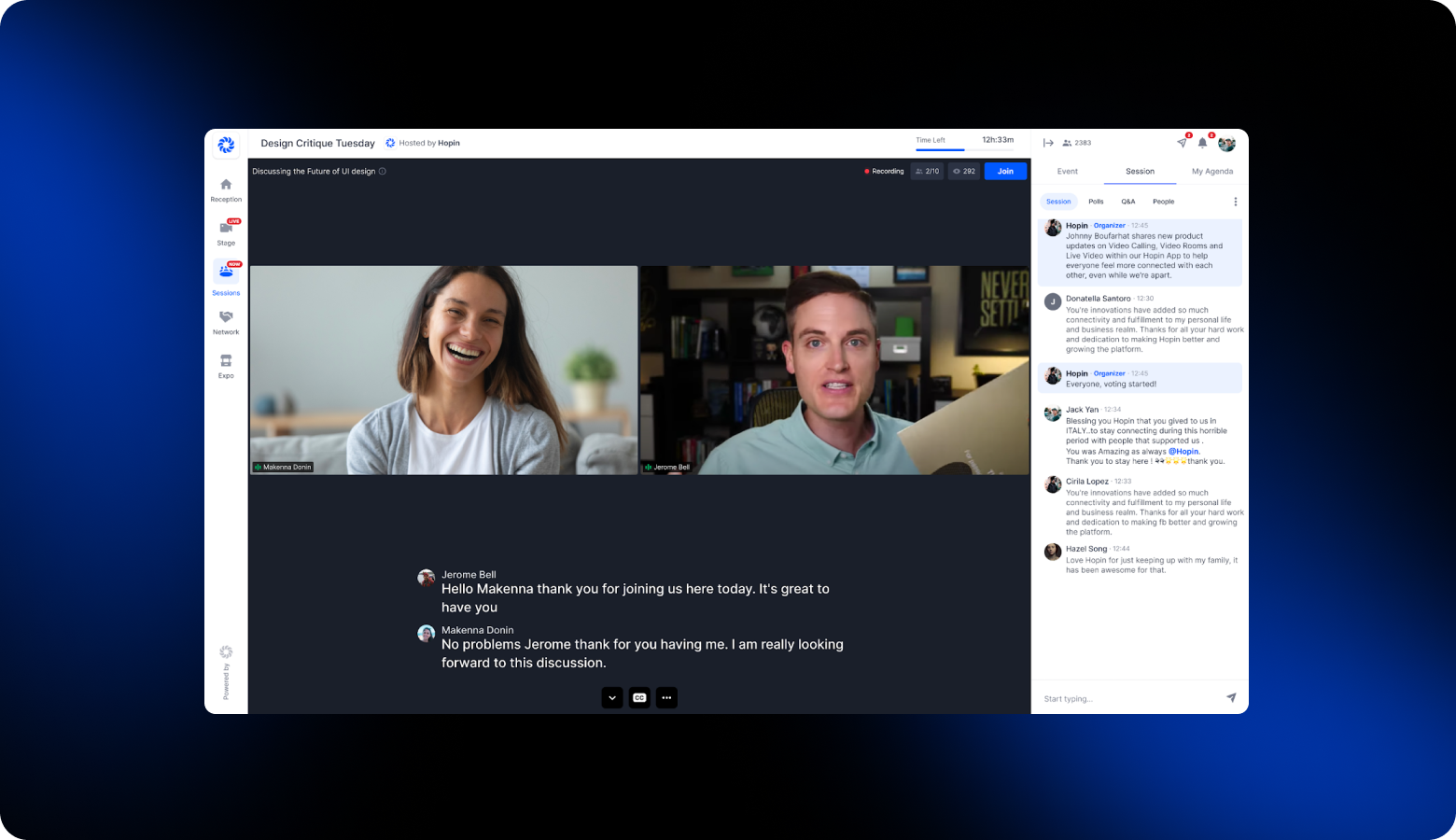 Event organizers can now extend the accessibility of their events so attendees in the Sessions area have a better experience with closed captions. This feature is available on all plans and will help:
Attendees who are deaf or have hearing loss

People who are in a distracting environment

People whose native language isn't English and who may not be able to comprehend all the content
For more information, please check this link.
Localized attendee experience
At Hopin, we're revisiting the attendee user interface (UI) for several languages. Now, event attendees in Germany and Japan will now benefit from a fully localized attendee UI on the Hopin Mobile App. This will allow German and Japanese speakers to have a localized experience not only on Hopin web but also via the Mobile App.
And we didn't stop there: We recently launched localized versions of the Hopin website for these two languages. Please check the German version here and Japanese here.
Event insights
To help you better manage and extract valuable insights from your event data, we've developed the following feature:
Enhance your insights with data from Splash
We made it even easier to manage your attendee data with the new Splash integration. You can now import registrations from Splash into Hopin and generate and save magic links for each event guest in Splash. Available on all plans.
Audience acquisition
To supercharge your registration rate, we've developed the following feature:
Increase your conversion rate with tailored communications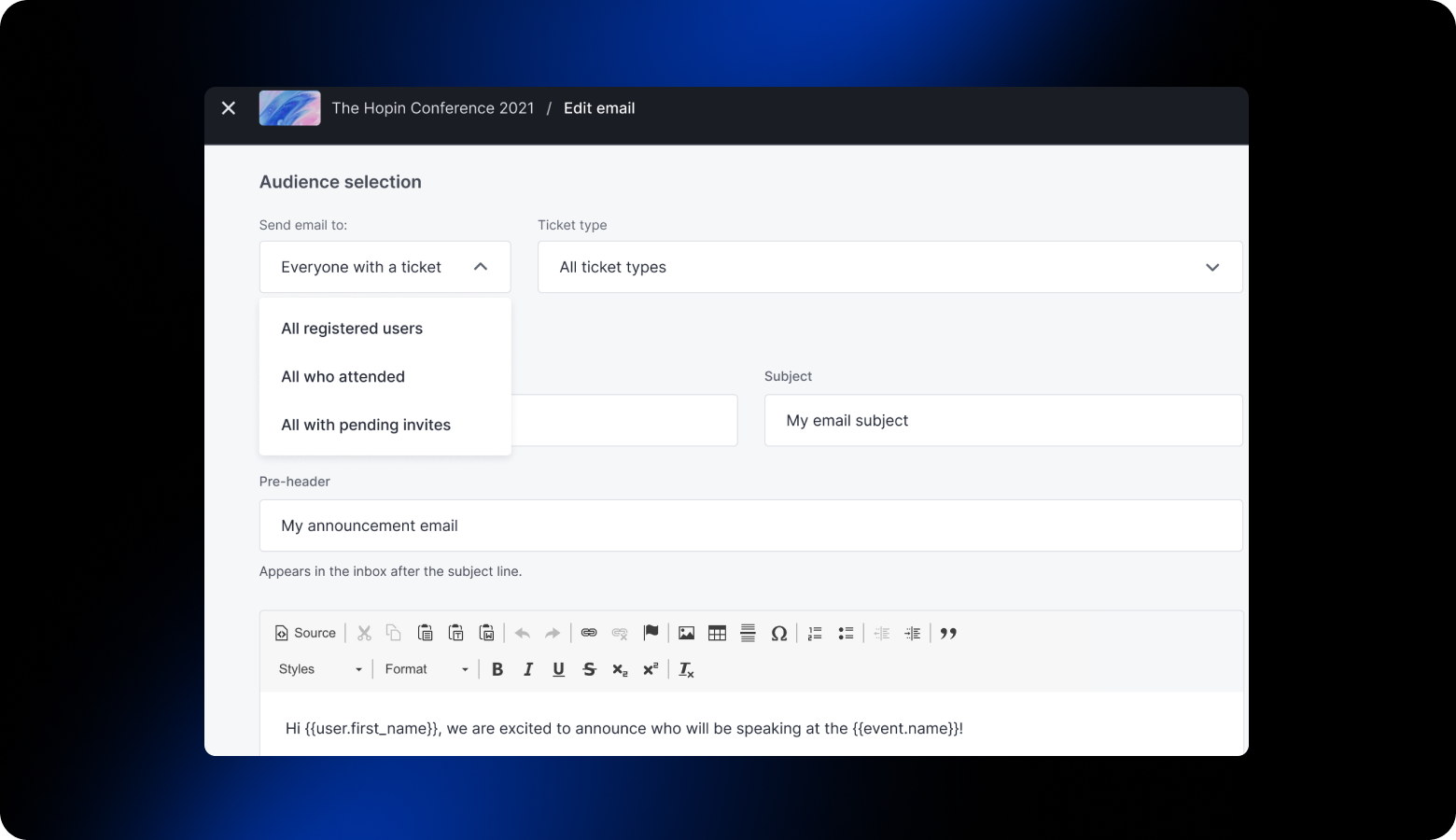 Organizers can now increase conversion rates by emailing registrants with the "pending acceptance" status. This is a great way to remind guests to verify email and complete registration before the big day. Available on all plans. Learn more here.
Audience engagement
The attendee experience is our priority at Hopin. We strive to ensure every organizer can provide their event audience with a memorable, engaging experience. For this December release, our product team has been working hard to increase in-event engagement. Check out some exciting features below:
Boost focus on the event content
Event organizers can now increase attendees' focus on presented content in all event areas. By disabling GIFs in the chat at any time, organizers on all Hopin plans can now provide attendees with a less distracting experience. This feature will affect attendees on both Hopin web and the Mobile App. More details here.
A better mobile experience for your attendees
We made several improvements to our Hopin Mobile App:
Real-time event communication: Event attendees using the Hopin Mobile App will now be able to receive and interact with General Announcements via a notification –– as long as the app is open. This will promote a wider visibility of live announcements from the event organizers, no matter the device type attendees are using.

Mobile app enhancements: To give attendees a better experience in the Sessions area, we made some enhancements to the mobile app, such as speaker highlight, larger video images with better grid spacing, and a better UI for audio and video controls.
The Hopin attendee-facing mobile app is included on all Hopin plans.
Production quality
To ensure your events look polished and professional, we continued to work on the StreamYard integration within Hopin backstage:
Personalized video backgrounds
Speakers can now upload a PNG or JPG as a virtual background, ensuring brand consistency and personalizing the experience for attendees. More information here.
Easier slide sharing
No more managing multiple tabs and windows to share a deck. Instead of screen sharing, you can now upload your slide show (Powerpoint, Keynote, or Slides) right into the stream. We also created a Google Slides integration to share your slides directly from your Drive account. This new way to share slides allows you to control the slides for your guests.
Bookmark comments for later
Have you ever received a comment you wanted to show on screen but it wasn't the right time? That's why we added the ability to star comments, which allows you to "star" your comments to talk about later during your show. We've also removed the comment limit, so you can see all of your comments.
All these StreamYard features are available on all Hopin plans.
That's a wrap! 🎁
We'll see you in January with more exciting Hopin product updates. Happy holidays!