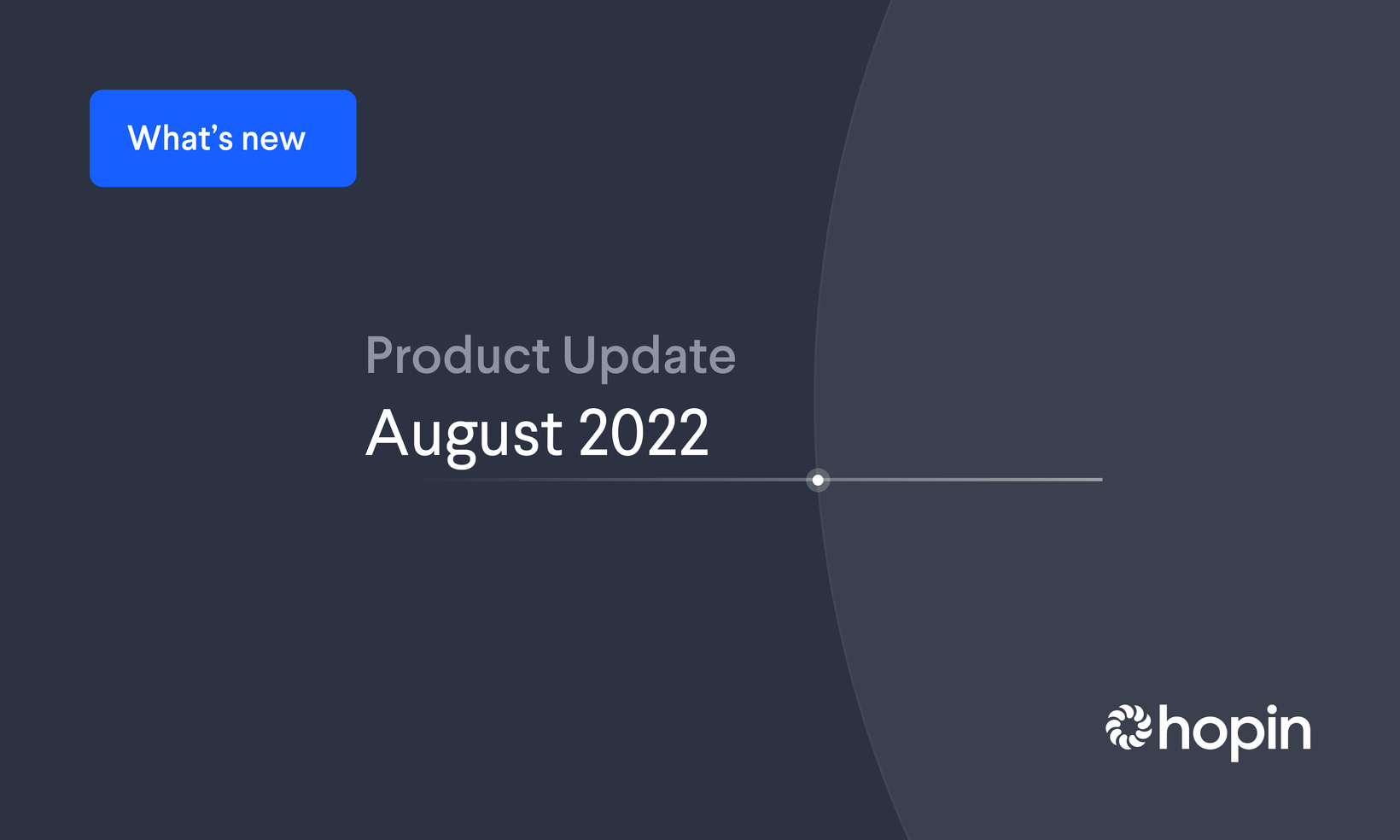 DATE:

AUTHOR:

The Hopin Events team
Organizer
Attendee
New
Improvement
Web
iOS
Android
Integrations
DATE:
AUTHOR: The Hopin Events team
We hope everyone has had a great August. We have some exciting product updates to share this month - read on to learn more.
Updates for event organizers
New Organizer Dashboard
We've revamped the Organizer Dashboard so you can easily manage all of your Hopin events. The New Organizer Dashboard aims to simplify the experience for organizers and allow them to extract value more easily from our search and filtering features.
Improved Event Duplication
We've included new details and sections that will be replicated when using the Event Duplication feature. These can be seen below:
Speaker Profiles

Emails

Registration Widgets

Replay

SSO Event Access
Roles and Permissions
Organizers on the Advanced Plans can now better control who and how their teams manage their Hopin events. We're adding granular roles and permissions which will allow organizers to restrict access to event management and limit the number of team members with access to sensitive data. Learn more here.
Export to Hubspot Custom Objects
We are now adding the ability for Organizers to export their Hopin data to Hubspot Custom Objects - instead of Notes. This is a more useful way of storing data, allowing Organizers to use our Hubspot integration to extract more value from their Hopin events.
Hybrid Events Updates
We have several exciting updates for organizers wanting to efficiently manage Hybrid events:
Segment Overwriting
We are giving event organizers the ability to override the segment attendance limit during the live event via the Organizer App in order to allow additional guests to join a specific event segment.
Editing Registration Form Fields
Ever wanted to edit attendee information after the registration process? Organizers can now edit attendee information from the Organizer App. So no need to worry about typos, out-of-date or blank information that needs to be updated on the go. Learn more here.
Updates for attendees
We are adding two key features to our Attendee Mobile App, which are particularly useful for hybrid events:
In-App Meeting Management
Hopin attendees can now accept or decline meetings directly from the app. Just like on desktop, accepted meetings will be automatically added to My Agenda. Learn more here.
Offline Experience
Want to access the event details even without internet connection? We got you covered. Now Hopin attendees can view their event details right from their mobile device while offline. Learn more here.
Product tips and best practices
Check out this month's featured tips on how you can use Hopin to create best-in-class experiences:
Communicate with your attendees in real-time: Managing an event with multiple areas? Do you have an important announcement that needs to be shared? Our General Announcement feature does just that. Accessible via the megaphone icon or the three dots on the activity panel, you can create (and preview) live announcements to your event attendees with ease.
Learn more about this month's updates and influence future releases
To learn more about this month's releases, check out our Knowledge Base.
Want to influence features and help shape the future of Hopin? Join our Customer Research Panel and get the opportunity to share your thoughts with our product team. 

Interested? Complete this two-minute survey.